Course Explanation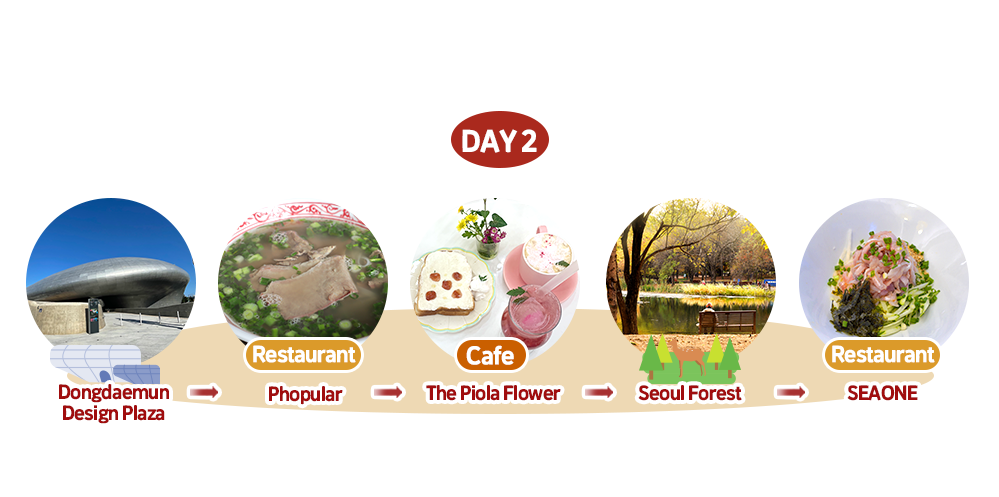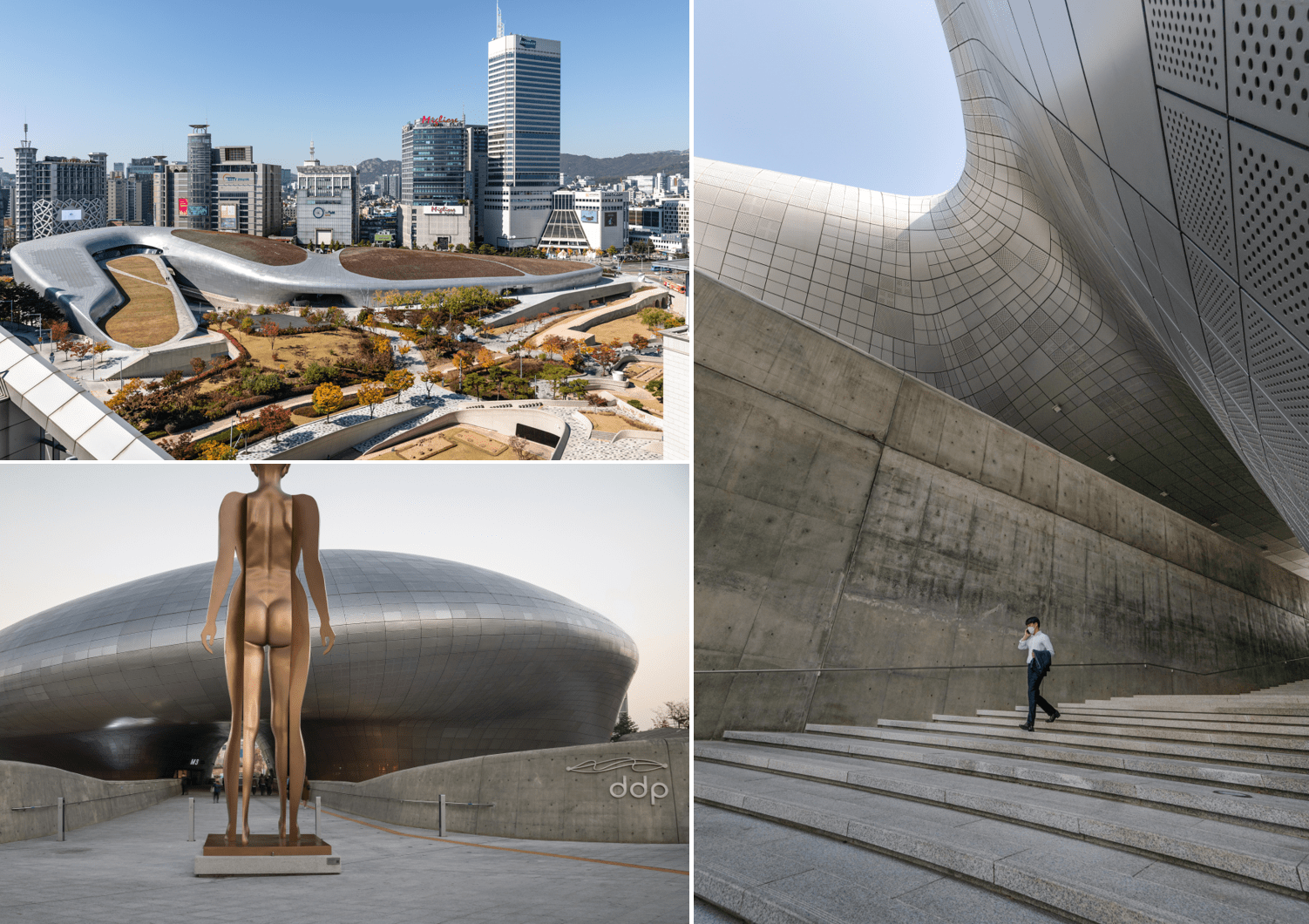 After recharging your fatigue in a comfortable hotel,it is time to travel back to Seoul again. Dongdaemun Design Plaza (DDP) , built on thesite of the former Dongdaemun Stadium, is one of the representative touristattractions that quickly emerged as one of Seoul's landmarks as soon as itopened in 2014 due to its unique appearance. The building is a posthumous workof world-renowned architect Zaha Hadid and is loved as a photo zone. DongdaemunDesign Plaza, a complex cultural space operated by the Seoul Design Foundation,offers a glimpse of the current status of various design trends to match thesymbolism of the building. It is a "hot spot" where cultural andartistic events such as fashion shows, design exhibitions, and forums are heldin Seoul.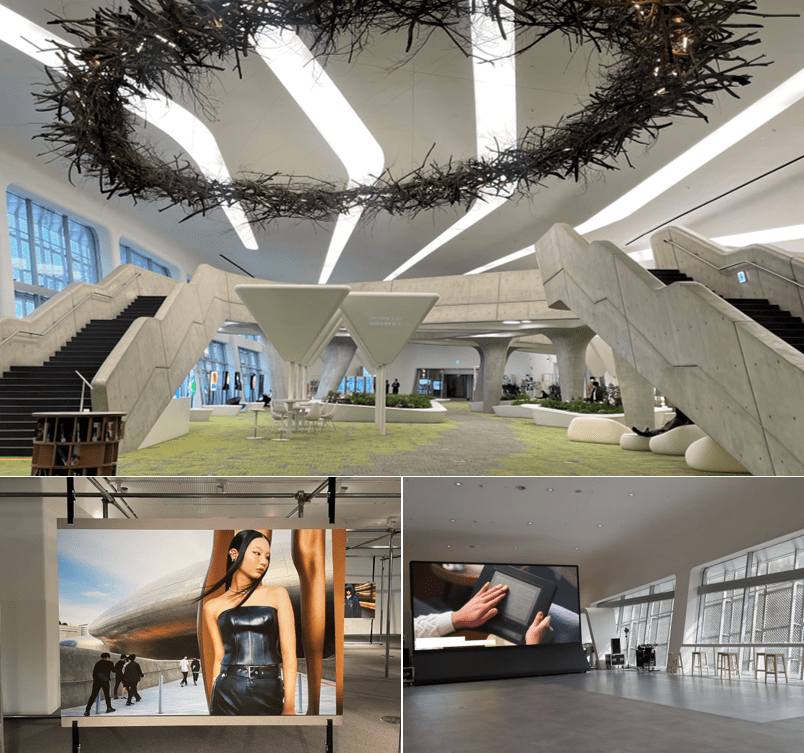 The interior space of Dongdaemun Design Plaza,connected as one, is divided into various areas depending on the purpose andtarget of the exhibition. Located in DDPMuseum , Korea's public design museum in Korea, there is the D-Forest , an open space where citizensparticipate in exhibitions, lectures, and performances, the Design Showroom , where you can get aglimpse of universal designs, the DDPDesign Store , where excellent products and goods are selected carefully bythe Seoul Design Foundation and DesignHall , and the Media Art Gallery ,which records and preserves the festival site of the Seoul Light Show, aworld-class media façade festival. In addition, inside the UD LifestylePlatform on the 3rd floor of the Design Lab building, works related to universaldesign are being exhibited until the end of December 2022, so it is definitelyan exhibition that can't be missed at a barrier-free tour course, right?Dongdaemun Design Plaza holds various seasonal and special exhibitions, so ifyou are interested in design, we recommend checking the website in advance andplan your route. If you have time, it would be nice to take a walk and lookaround the Dongdaemun History and Culture Park nearby.
Information on the address, website, operating hours of DDP

Address

281, Eulji-ro, Jung-gu, Seoul

Website

Operating Hours

10:00 - 20:00

※ Operating hour varies per space (Please refer to the homepage)

#DDPExhibition# ZahaHadidBuilding # JungguAttractions # DongdaemunDesignPlaza #SeoulDesignFoundation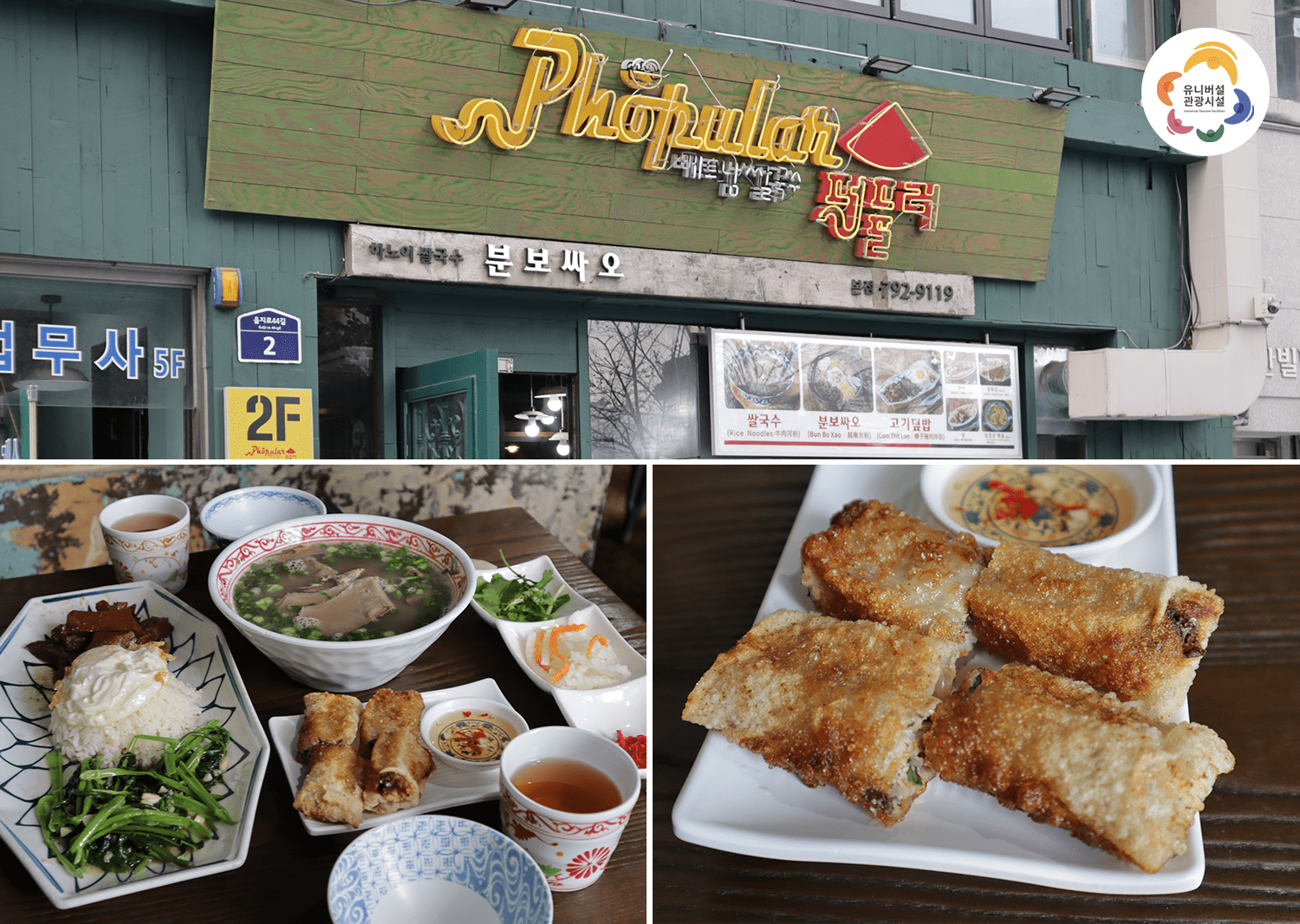 Some of you might wonder whya Vietnamese restaurant is selected for a Seoul travel guide. Vietnamese foodhas gained popularity over years, and it became famous as a hangover food amongyoung people. Phopular , located not far from theDongdaemun Design Plaza is where you can have authentic Vietnamese food inSeoul, as it's run by a professor of culinary arts at a college of tourism inHanoi. In addition, there are local dishes which are not easy to find in mostof the Vietnamese restaurants in Korea, such as Com Thit Lon, a Vietnamesestyle rice bowl with braised pork and stir-fried water spinach. Of course, popularVietnamese dishes such as Pho Bo, rice noodle soup with beef, and Bun Bo Xao,beef noodle salad, guarantee excellent taste.
Information on the address, contact number, operating hours and menu of the Phopular

| | |
| --- | --- |
| Address | 2, Eulji-ro 44-gil, Jung-gu, Seoul (2 nd floor) |
| For Inquiries | (+82) 507-1322-9119 |
| Operating Hours | 10:00 -22:00 |
| Menu Information | Thit, Steamed Beef Pho 9,500 won / Nem (Cha Zio) 7,000 won / Bun Bo Xao 10,000 won / Com Thit Lon 10,000 won |

#MustGo Jung-guVietnameseRestaurant #MustGoPhoRestaurant #MustGoDDPRestaurant#MustGoHanoiRestaurant #MustGoBunBoXaoRestaurant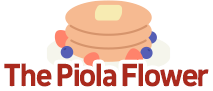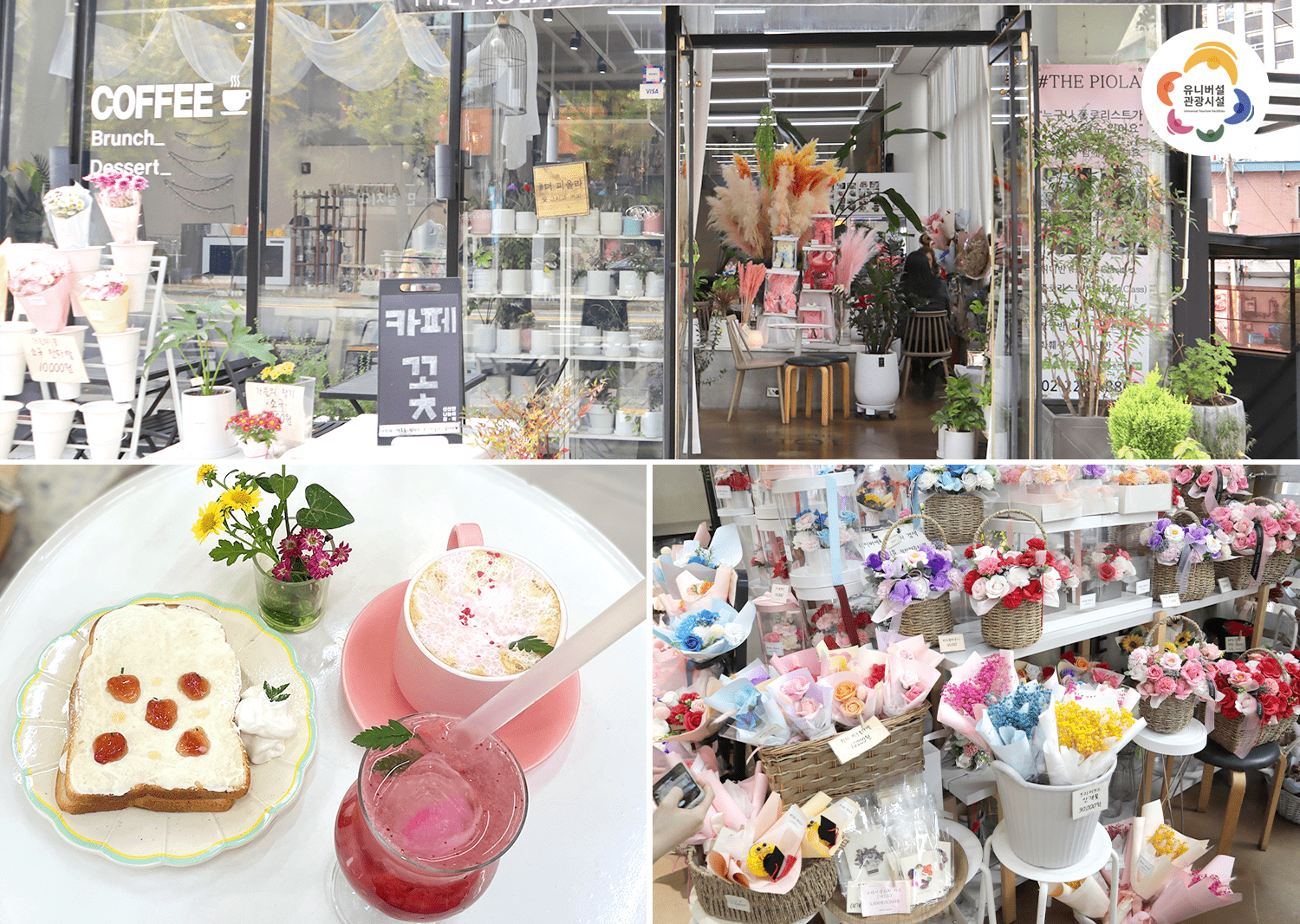 The Piola Flower , near Dongdaemun Design Plaza and Dongdaemun History & Culture Parkstation, is a café with good accessibility and is often mistaken as a flowershop because of the vibrant bouquets and flowerpots outside but is a shop toenjoy tea time. Surrounded by colorful and fragrant flowers, you can enjoynumerous unique menus. In particular, seasonal beverages, yogurts, and bakeriesusing strawberries, grapefruits, lemons, yuzus, mangoes, and other sweet fruitsare gaining popularity.
Information on the address, contact number, operating hours, munu of The Piola Flower

| | |
| --- | --- |
| Address | 209, Jangchungdan-ro, Jung-gu, Seoul (1 st floor, M Tower) |
| For Inquiries | (+82) 02-2272-8808 |
| Operating Hours | Mon ~Fri 09:00-22:00 / Sat, Sun 10:00 – 21:00 |
| Menu Information | Black Caramel Latter 5,500 won / Piola Cube Latte 5,800 won / Flower Strawberry Ade 5,800 won / Americano 4,000 won |

#DongdaemunFlowerCafe #DDPFlowerCafe # Dongdaemun History & Culture ParkFlowerShop # Euljiro FlowerShop # JongnoFlowerShop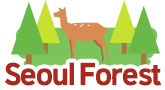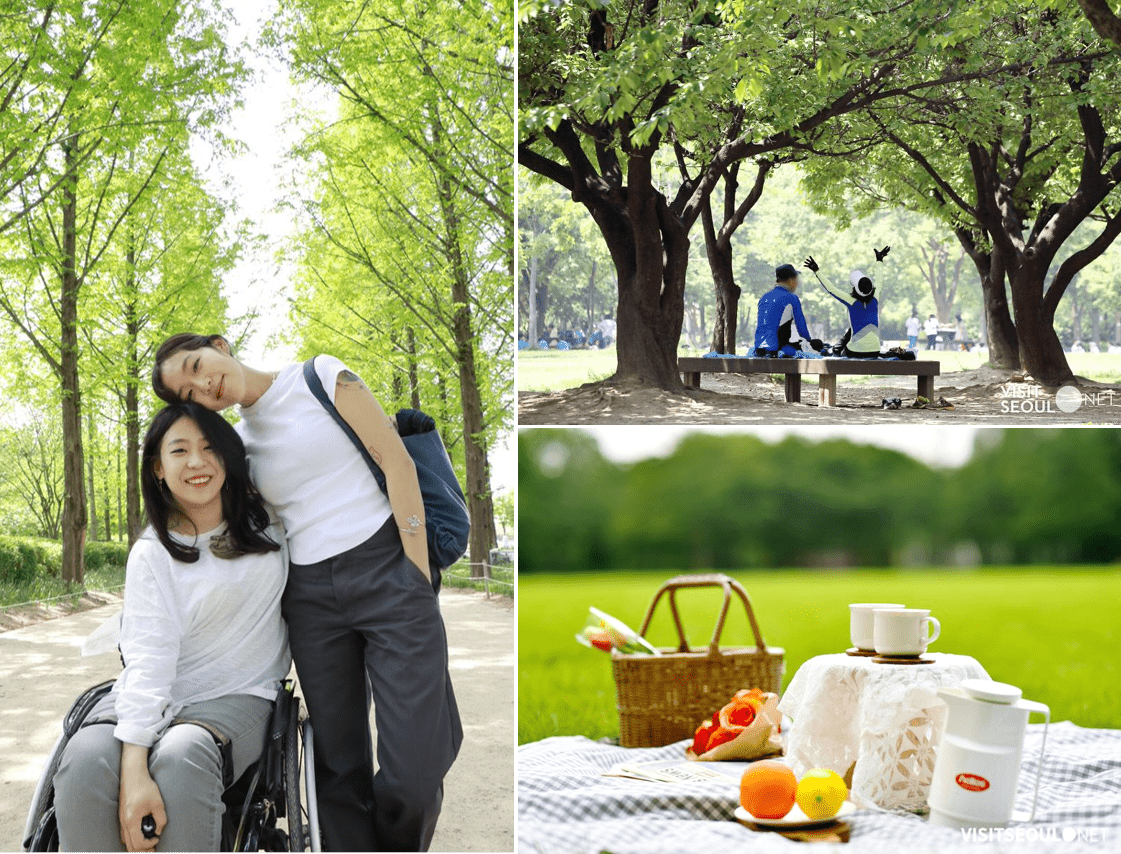 SeoulForest is well-known as a nature learning center with a long history. In thepast, it was the king's hunting ground and the first water source in Seoul.Afterward, it was reborn as Seoul Forest, one of the representative greenshelters in Seoul, after being used as areas for racetracks and golf courses.It consists of four parks, including Culture & Art Park, EducationalExperience Park, Eco-forest Park, and Riverside Park, which have uniquedistinctiveness for each section. It is loved as a photo zone thanks to thevarious trees that change throughout the season, such as the cherry tree pathsand ginkgo tree forests.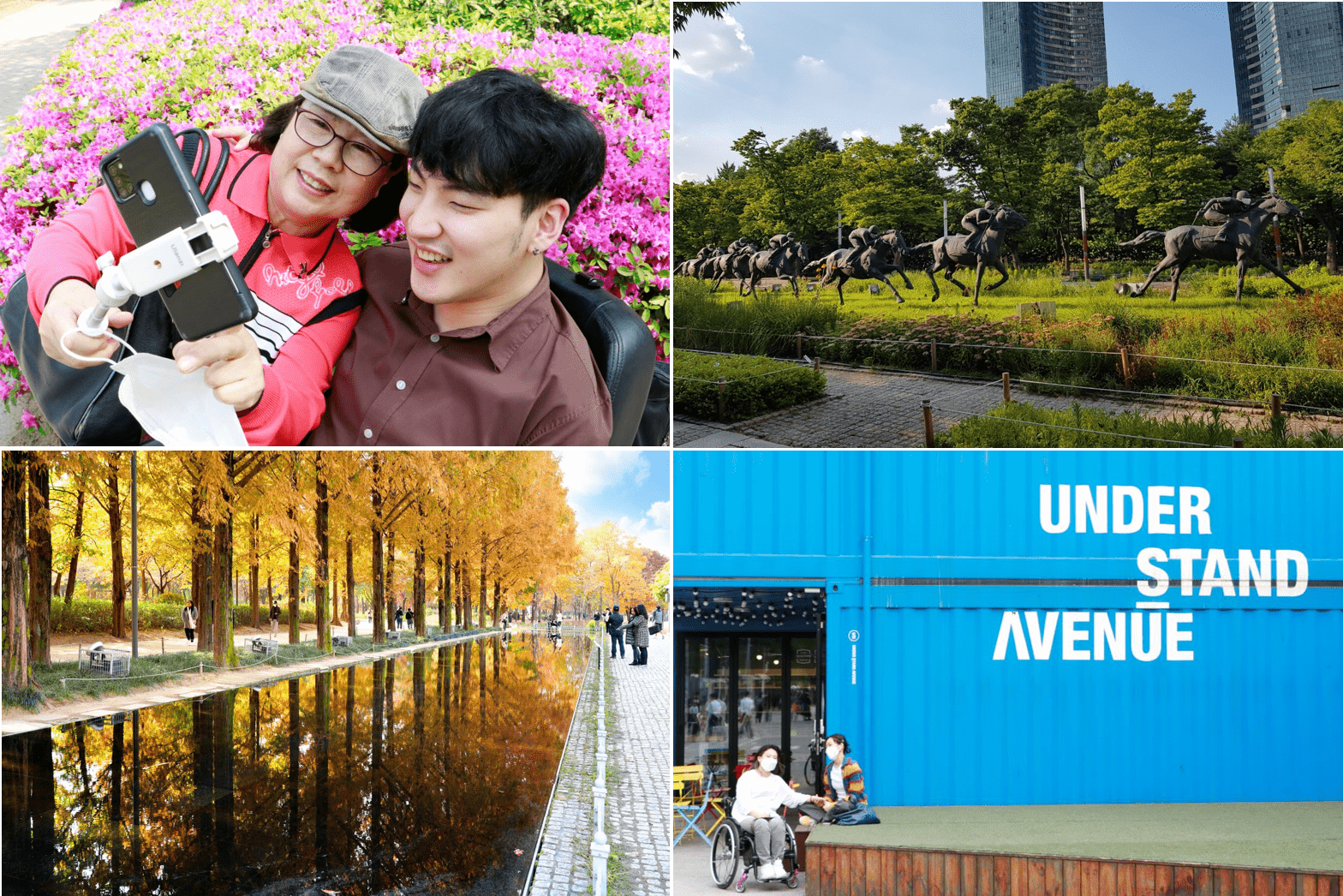 Among 40 facilities in the Seoul Forest, here are ourrecommendations in case you don't have enough time to look around all of them. Firstly,the Deer Corral at the Eco Forest iswhere you can see the sika deers, the symbol of Seoul Forest. Secondly, In the Insect Garden , built in the greenhousefacility, you can examine about 100 species of tropical plants, insects,reptiles, and amphibians, making it a popular place for children to learn aboutnature. Thirdly, the Family Yard ,which consists of open laws, is a well-known picnic spot to take a rest whileappreciating outdoor artworks nearby. Lastly, the Mirror Pond near the main entrance, is a 3-centimeter-deep shallowpond along the Metasequoia Forest with a mirror-like view of the surroundingscenery.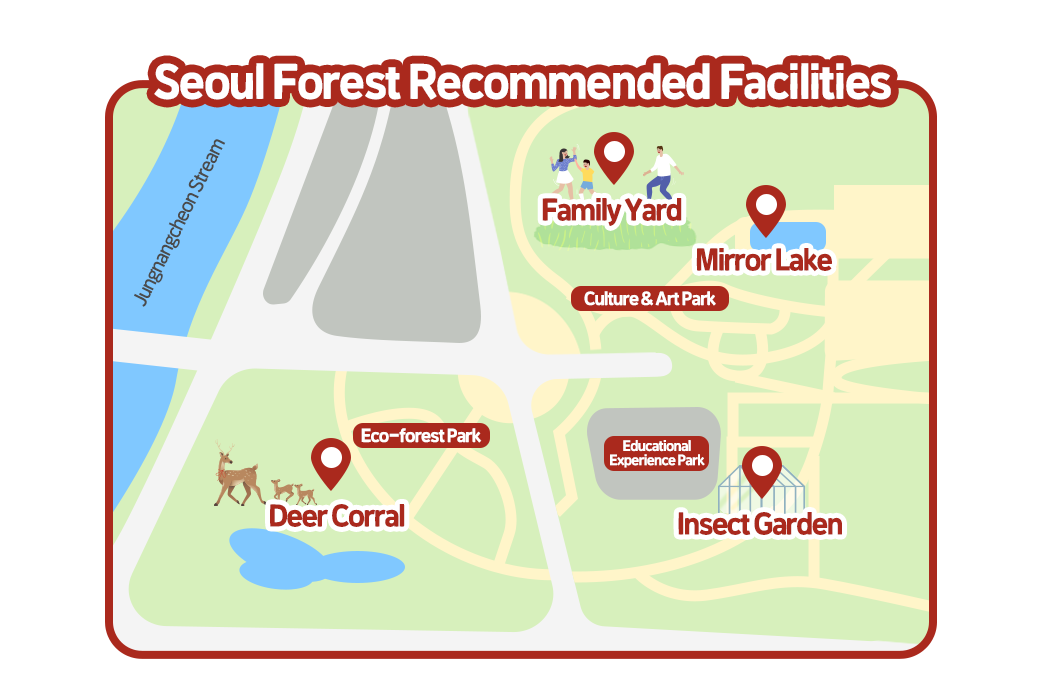 Address

273, Ttukseom-ro, Seongdong-gu, Seoul

Website

Operating Hours

Eco-forest Park 05:30 – 21:30

Insect Garden 10:00 – 17:00 (Last admission 16:30)

Butterfly Garden 10:00 – 17:00 (Last admission 16:30)

※ Insect Garden, Butterfly Garden Closed Mondays

※ Butterfly Garden Operating from May to October

#FamilyOuting #ChildrenFriendly #SeoulPark #UrbanEcoPark# WetlandEcoCenter #DeerCorral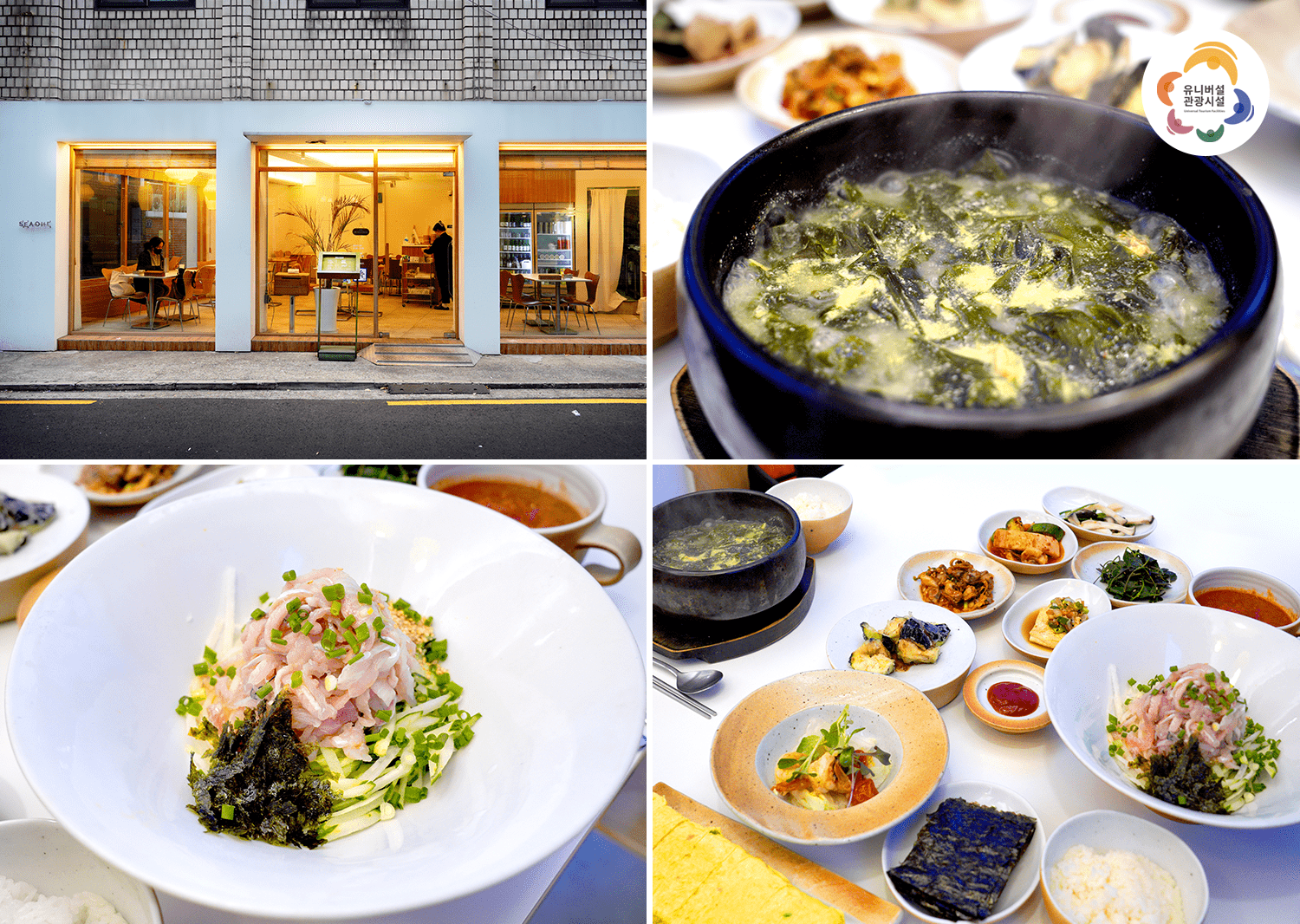 One of the benefitsof being in Seoul is that you can discover the entity of Korean cuisine fromroyal cuisine to local dishes. To finish our journey, it's time to head to SEAONE ,a famous Pohang (a harbor city in Southern Korea) restaurant nearby. SEAONE specializedin Cold Raw Fish Soup Mulhoe , a local delicacy of Pohang city. The typeof fish, including flatfish and yellowtail, may vary by season to offer thefreshest meal. Other menus, such as Daegu Tang (Cod Soup), Hoe Deopbap (RawFish Bibimbap), Miyeokguk (Seaweed Soup), and more, are made with freshingredients to captivate the taste bud of seafood lovers.
Address

7, Sangwon 10-gil, Seongdong-gu, Seoul

For Inquiries

(+82) 2-6082-0525

Operating Hours

11:00~22:00 (Break time 13:00 – 17:00 / Last order 14:15, 21:15 )

※ Closed Saturdays

Menu Information

SEAONE Mulhoe 15,000 won / SEAONE Miyeokguk 10,000 won / SEAONE Hoe Deopbap 15,000 won / SEAONE Daegu Tang 15,000 won

# MustGoSeoul MulhoeRestaurant #MustGo Seongsudong MulhoeRestaurant #MsutGoDaeguTangRestaurant #MustGo TtukseomStationRestaurant #SeoulPohangFoodSpeciality
Did you enjoy your solid48-hour trip to Seoul? Hope it was a time to immerse in the various charms ofSeoul, a barrier-free tourist city, through the museum where Korea'srepresentative relics are collected, the Hangang River, a representativetourist attraction in Seoul, and the forest that serves as a shelter in thecity.